Rural Radio Network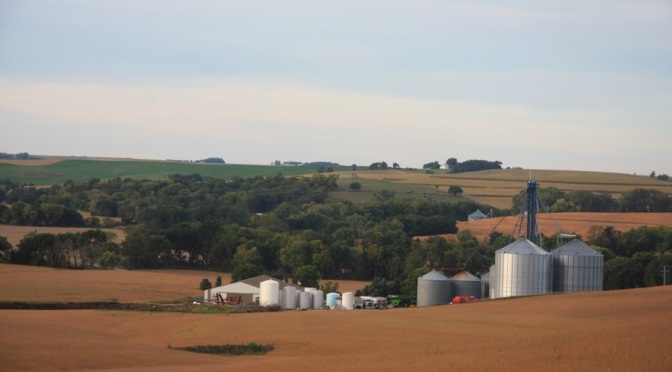 USDA often releases what it regards as non-controversial but self-congratulatory reports when administrations turn over, especially when that occurs just ahead of farm bill debates. So, USDA's new retrospective on U.S. farm structure might be accused of falling into that category. These reports oft...
Read More
Crops
Authorities Investigate Kansas Grain Bin Collapse
Authorities are trying to determine what caused a Kansas grain bin to collapse and spill about 250,000 bushels of corn on the ground. The Hays Post reports that no one was injured when the bin gave way around 11 am. Wednesday in the Morris County community of White City. Morris County Emergency Management director Chris Blackledge says four elevator employees heard a loud commotion outside just before the collapse. The bin has a 500,000-bushel capacity. Cleanup of the spill began on Thursday morning. Blackledge says Mor-Kan Grain owns the bin.
China Grain Production to Contract for First Time in 13 Years
China grain production is estimated to have fallen for the first time in 13 years, though it remains well above 2014 levels, according to data released Thursday by China's National Bureau of Statistics. The data showed total grain production for 2016 us likely to have fallen 0.8% from the previous year to 616.2 million metric tons. However, grain production is projected to outperform 2014 production by 1.5%, the data showed. Much of the drop is due to weaker corn production this year, which is forecast to have dropped 2.3% from a year ago, according to the data. In March, China said it would remove a policy, in place since 2007, that set a minimum price for corn produced by domestic growers. Corn prices fell as a result, leading some farmers to switch crops for economic reasons. The effects were made planting decisions for the year as corn production is expected to fall further next year. Data released earlier this week by China's Ministry of Agriculture forecast corn production for the 12 months to September 2017 to fall 4.0% to 214.7 million tons. It estimated corn production reached 224.6 million tons in the year ended September 2016. The fall in production doesn't come as a surprise for the market, which expected farmers to grow alternate crops for their attractive prices. In addition, the production drop is unlikely to make a dent in the global markets due to the small size of China's corn imports. "Imports will remain weak as the government will continue to try to release its gigantic stocks on the domestic market. Weak local corn prices also limit the attractiveness of imported corn," BMI Research said in a note.
Merger Discussions, Elections Push Soy Checkoff into 26th Year
Navigating profitability through challenging times. That's the thought on every soybean farmer's mind and it resonates strongly with those appointed to serve on the United Soybean Board (USB). Charged with the fiduciary responsibility to invest farmer checkoff funds in research and promotion, USB takes the commitment to maximizing U.S. soybean farmers' profit opportunities seriously. Meeting for their annual board meeting, the farmer-leaders looked hard at investments that can bring innovative solutions back to their peers. From improving meal and oil to sustainability issues, the farmers have identified these opportunities to return the most value to the marketplace. Over the last several years, the board has elevated its relationships with ag industry partners and the annual meeting was a great opportunity for Monsanto and Bayer to discuss the merger and the impact to farmers. "From trait approvals, patent protection and brand equity, the two companies addressed what was top of farmers' minds," says John Motter, newly elected chair and farmer from Jenera, Ohio. "It was nice to hear about their plans to raise the bar in innovation and technology and ways to impact profit opportunities for U.S. soybean farmers into the future. Motter will lead USB as its 26th chair. He has served on the board for eight years and also served as Ohio Soybean Council Chairman, USB treasurer, and USB vice chair. Also elected to the Executive Committee are: - Lewis Bainbridge, Vice Chair – South Dakota - Jimmy Sneed, Secretary – Mississippi - Keith Tapp, Treasurer – Kentucky - Mike Beard, Indiana - John Dodson, Tennessee - Nancy Kavazanjian, Wisconsin - Jim Carroll, Arkansas - Dan Farney, Illinois - Gregg Fujan, Nebraska The farmers also selected members to serve on the Strategic Management Committee. Those farmers include Mark Seib, Indiana; Doug Winter, Illinois and Jay Myers, North Dakota. USB's 73 farmer-directors work on behalf of all U.S. soybean farmers to achieve maximum value for their soy checkoff investments. These volunteers invest and leverage checkoff funds in programs and partnerships to drive soybean innovation beyond the bushel and increase preference for U.S. soy. That preference is based on U.S. soybean meal and oil quality and the sustainability of U.S. soybean farmers. As stipulated in the federal Soybean Promotion, Research and Consumer Information Act, the USDA Agricultural Marketing Service has oversight responsibilities for USB and the soy checkoff.
Livestock
October Pork Exports Largest Since 2014; Beef Exports Remain Strong
U.S. pork and beef exports continued to build momentum in October, with both achieving double-digit increases from a year ago, according to statistics released by USDA and compiled by the U.S. Meat Export Federation (USMEF). October pork exports totaled 201,936 metric tons (mt), up 14 percent year-over-year and the largest monthly volume since March 2014. Export value was $521.1 million, up 16 percent. For January through October, export volume was 6 percent above last year's pace at 1.86 million mt, while export value was up 3 percent to $4.79 billion. Exports accounted for 25.5 percent of total pork production in October and 21 percent for muscle cuts only. For January-October, exports accounted for 25 percent of total production – up a full percentage point from a year ago – and 21 percent for muscle cuts, up slightly. Export value per head slaughtered averaged $47 in October, up 8 percent year-over-year, while January-October export value averaged $49, steady with the same period last year. October beef export volume was 105,938 mt, up 12 percent from a year ago, while export value climbed 10 percent to $559.5 million. For January through October, export volume was up 9 percent from a year ago at 954,868 mt, while value was down 3 percent to $5.1 billion. Beef muscle cut exports were especially strong in October at 75,903 mt – the largest volume in two years. Beef exports accounted for 14 percent of total production in October and 11 percent for muscle cuts only. January-October ratios were just over 13 percent and 10 percent, respectively – up slightly from the same period last year. Export value per head of fed slaughter averaged $269.35 in October, up 5 percent year-over-year. Through the first 10 months of 2016, export value averaged $254.71 per head, down 8 percent. "With pork production at a record level and beef production also on the rise, it is imperative that we work to expand global demand and accelerate the volume of product entering the international markets," said Philip Seng, USMEF president and CEO. "With strong support from USDA, our U.S. industry partners and our international contacts, USMEF has intensified its marketing efforts in key destinations and capitalized on opportunities to regain market share – not only in mainstay markets such as Japan, Mexico and South Korea, but in a wide range of countries. This has laid the groundwork for a strong finish to this year and further growth in 2017." Led by Mexico, pork exports strengthen in Western Hemisphere markets Pork exports to Mexico remained strong in October, increasing 9 percent from a year ago in volume (65,271 mt) and 6 percent in value ($115.2 million). For January through October, exports to Mexico pulled within 2 percent of last year's record pace in volume (576,008 mt) and remained 1 percent higher in value ($1.05 billion). This strong performance has been especially supportive of prices for U.S. hams, the highest-volume export item to Mexico. Through October, in pesos, U.S. ham prices were 21 percent higher than a year ago while demand in Mexico remained strong. Ham prices strengthened further in November, and weekly export data showed even larger shipments to Mexico. To overcome the difficult exchange rate situation, USMEF has emphasized the quality and consistency of U.S hams with Mexico's meat processors and worked with these companies on new product development. Pork exports to leading value market Japan were also strong in October, increasing 4 percent from a year ago in volume (30,987 mt) and 9 percent in value ($127.9 million). Through the first 10 months of the year, exports to Japan were 7 percent below last year's pace in volume (320,491 mt) and 4 percent lower in value ($1.29 billion). Chilled pork exports to Japan remained on a record pace through October, totaling 180,793 mt, up 9 percent year-over-year. Pork muscle cut exports to China/Hong Kong continued to moderate in October, reflecting a rebound in China's domestic pork production, but variety meat exports to the region remained strong. For January through October, total pork/pork variety meat exports to China/Hong Kong were up 66 percent from a year ago in volume (450,257 mt) and 55 percent higher in value ($878.8 million). Other January-October highlights for U.S. pork exports include: After a slow first half of 2016, exports to Colombia continue to rebound. Though January-October exports were still down 13 percent year-over-year in volume (30,713 mt) and 20 percent in value ($70.6 million), October exports climbed 68 percent in volume (5,862 mt) and 77 percent in value ($14.6 million). October muscle cut exports to Colombia were the largest on record at 5,428 mt, up 58 percent from a year ago. Following a slowdown in September, pork exports to Central America rebounded strongly in October, especially in Honduras, Guatemala and Panama. January-October exports to Central America were up 18 percent from a year ago in volume (53,259 mt) and 12 percent in value ($126.9 million). Exports to the Dominican Republic were 9 percent above last year's pace in volume (20,945 mt) and 4 percent higher in value ($45.8 million), including a 32 percent increase in October export value ($4.8 million). Although January-October exports to Korea remain well below last year's large totals, demand has strengthened in recent months. Pork muscle cut exports to Korea reached 11,469 mt in October, the largest since March. Combined pork/pork variety meat exports were 12,121, up 11 percent from a year ago. October export value climbed 26 percent to $33.8 million. Beef exports set new monthly record in Taiwan; chilled exports continue to shine October beef exports were highlighted by a record performance in Taiwan, where volume was up 90 percent from a year ago to 5,177 mt. This pushed January-October exports to Taiwan to 35,241 mt (up 20 percent year-over-year) valued at $284.9 million, up 7 percent and on track for a new record. October exports were also outstanding to Japan, where volume soared 40 percent to 20,089 mt valued at $119.8 million (up 34 percent). January-October exports to Japan were up 21 percent in volume (213,636 mt) and 13 percent in value ($1.24 billion). Japan's October imports of chilled U.S. beef exceeded chilled imports from Australia for the second consecutive month. In Korea, October exports were 16,897 mt (up 63 percent year-over-year) valued at $98.8 million (up 68 percent). January-October exports to Korea were 139,592 mt valued at $814.2 million, up 36 percent and 21 percent, respectively, from a year ago. Export value to Korea is on pace to exceed the 2014 record of $847.4 million, and with a strong finish could approach the $1 billion mark in 2016. Chilled beef exports to both Japan and Korea have excelled in 2016, with shipments to both markets up nearly 40 percent year-over-year. Through October, chilled exports were the largest on record to Korea and the largest to Japan since 2003. Other January-October highlights for U.S. beef exports include: Despite the persistent weakness of the peso, beef exports to Mexico were up 8 percent from a year ago to 195,799 mt, though export value to Mexico has trended lower this year ($812.1 million, down 11 percent). While January-October exports to Hong Kong were lower year-over-year (86,943 mt, down 6 percent, valued at $525.2 million, down 18 percent), October exports were easily the largest of the year in both volume (11,998 mt) and value ($72.8 million). Fueled by strong growth in Indonesia and Vietnam, exports to the ASEAN region increased 27 percent in volume (22,206 mt) and 3 percent in value ($119 million). Despite a decline to leading destination Egypt, beef liver exports increased 9 percent to 67,394. Larger volumes to Mexico and the addition of South Africa, a promising liver market that reopened earlier this year, offset lower shipments to Egypt, which takes about 75 percent of U.S. liver exports. Lamb exports trend lower, but muscle cuts improve October exports of U.S. lamb fell 31 percent from a year ago to 600 mt, but this was due to a steep decline in variety meat exports. Lamb muscle cut exports were 224 mt, up 19 percent. Lamb export value in October was $1.41 million, down 4 percent. January-October exports were down 6 percent from a year ago in both volume (7,120 mt) and value ($14.8 million), as gains in Bermuda, Hong Kong, the ASEAN region and the United Arab Emirates were offset by lower exports to leading market Mexico. Complete January-October export results for U.S. beef, pork and lamb are available from USMEF's statistics web page. Monthly charts for U.S. pork and beef exports are also available.
Wendy's Joins U.S. Roundtable for Sustainable Beef
DUBLIN, Ohio, /PRNewswire/ --  Wendy's® announced its partnership with the U.S. Roundtable for Sustainable Beef and a commitment to advancing sustainability efforts throughout the U.S. beef value chain. With a forty-six year commitment to serving only fresh*, never frozen North American beef, Wendy's has long partnered with leaders throughout the beef supply chain to advance responsible practices in animal production, health and welfare. By joining the Roundtable, Wendy's will also ensure it has an active voice in discussions about the environmental, social and economic sustainability of the U.S. beef industry. "Wendy's was founded on a simple principle that 'Quality is our Recipe' and customers deserve great tasting hamburgers served by friendly people in a comfortable restaurant," said Liliana Esposito, Chief Communications Officer for The Wendy's Company. "Our commitment to quality beef that is always fresh and never frozen has created a decades-long relationship between our business and the U.S. beef producers that help us serve our customers every day. We have a long-term interest in promoting the continued sustainability of the U.S beef supply chain, and we are proud to join the efforts of the U.S. Roundtable for Sustainable Beef and align on common goals and metrics to drive continuous improvement in U.S. beef production." Recognizing that consumers are increasingly interested in where their food comes from and how it is raised, the USRSB aims for the U.S. beef value chain to be the trusted global leader in environmentally sound, socially responsible and economically viable beef. With members that include farmers and ranchers, processors and industry partners, academics, retailers and environmental groups, the USRSB brings together a diversity of viewpoints and interests through leadership, innovation, multi-stakeholder engagement and collaboration. "The strength and success of the U.S. Roundtable for Sustainable Beef is dependent on a diverse membership that encompasses the entire beef value chain," said John Butler, beef producer and Chair of the USRSB. "We are very proud to have Wendy's join the Roundtable as we all work to improve the sustainability of the U.S. beef industry." *Fresh beef available in the contiguous U.S., Canada, and Alaska.
Washington man earns reward for helping convict cattle thief
(TOPEKA) – The Kansas Livestock Association (KLA) Board of Directors has voted to pay a $2,500 reward to Gregg Stewart of Washington for his part in helping convict a Lincoln man for cattle theft. Information provided by Stewart played a key role in the arrest and conviction of Keith Earl Buttenhoff for stealing seven head of cattle from Mid Continent Farms in November of 2015. Kendal Lothman, head of the Kansas Livestock/Brand Investigation Unit with the state attorney general's office, assisted the Lincoln County Sheriff's Department with the investigation. Buttenhoff was convicted September 6, 2016, in Lincoln County District Court on six counts of felony cattle theft. He later was sentenced to 12 months of probation. If probation is violated, he could face 16 months of incarceration with the Kansas Department of Corrections. Stewart, who is a partner in the family-owned Mid Continent Farms, pledged to donate part of the reward to the Lincoln County Sheriff's Department for its role in convicting the thief. He also plans to give a portion to the Lincoln County Fire Department for helping local ranchers during the prescribed burning season. KLA's long-standing program offers up to a $2,500 reward for information that leads to the arrest and conviction of livestock thieves. For the reward to apply, the victim must be a KLA member. "We hope this case and the role the KLA theft reward program played serves to deter others from stealing livestock in Kansas," said KLA President David Clawson of Englewood.
Technology
Only Three Percent of High School and College Students Are Aware of Ag Job Prospects
While agriculture has become a hot sector for job growth (USDA Employment Opportunities Report, 2015), a just-released survey shows only 13 percent of high school and college students are interested in pursuing a career in the agriculture industry – and just 3 percent can identify it as one of the best fields for college graduates. The survey, sponsored by America's Farmers Grow Ag Leaders, a Monsanto Fund program, was conducted in November, a time when many high school students are completing college applications in advance of January 1, 2017, deadlines and as future college graduates are applying for jobs. Fewer than one in five (19 percent) surveyed indicated that they understood the broad array of career opportunities in agriculture. In fact, the agriculture space is experiencing job growth. According to the USDA, 57,900 high-skilled jobs are created annually in food, agriculture, renewable natural resources and environmental fields in the United States. The survey identified several misconceptions that contributed to the findings. For example, only 35 percent of high school and college students believed careers in agriculture were technology-driven. "One of the program's goals is to support future agriculture leaders by helping them to understand the wide array of opportunities in agriculture, from business and communications to science, technology and many other fields," said Al Mitchell, Monsanto Fund president. "For example, whether you visit a family farm or a corporate operation, you will see growers utilizing technology in exciting ways many students may be unaware of, such as global-positioning systems, state-of-the-art soil quality tools and weather forecasting devices to maximize every square-inch of land. But technology-related jobs are just one avenue that students can pursue with careers in agriculture." Erickson Research collected data from a total of 1,000 respondents and analyzed the results. When asked to share their interest in working in various industries, 45 percent of respondents were "extremely or very interested" in a career in technology, followed by 40 percent exhibiting the same level interest for a career in arts/entertainment, 35 percent for a career in healthcare, and just 13 percent for a career in agriculture. To raise awareness of the job prospects in agriculture, the Monsanto Fund supports the America's Farmers Grow Ag Leadersprogram, which will award more than $500,000 dollars in scholarships to students across the country in 2017. The scholarships are open to students in eligible counties who are looking to enroll or are enrolled in trade schools, community colleges and four-year universities. Scholarships are awarded in $1,500 increments to students pursuing an education in an ag-related field of study. Fields include: farming, agronomy, education, science, technology, engineering, business, communications, among many others. Since the program began in 2014, the America's Farmers Ag Leaders program has awarded nearly $1.2 million in scholarships to promising students pursuing their education in agriculture. Students under the age of 23 can enroll in the America's Farmers Grow Ag Leaders scholarship program from now through Feb. 1, 2017. Online enrollment, as well as a complete list of program rules and eligibility information, can be found at www.GrowAgLeaders.com. Additionally, more information about the program can be found at facebook.com/AmericasFarmers.
Kansas State University Scientists Using Air Bubbles to Improve Dairy Products
Kansas State University researchers are deploying small air bubbles invisible to the human eye in a quest to improve several popular dairy products and co-products. Food scientist Jayendra Amamcharla said his research team is perfecting a process to incorporate air bubbles into condensed milk and yogurt to make the texture of these products more desirable for consumers. "The consumer trend is toward high-protein yogurt products," said Amamcharla, an assistant professor of animal sciences and industry. "But one of the disadvantages of having higher proteins is that it increases the viscosity, or thickness, of the yogurt. It becomes so thick that you can eat it only with a spoon. We have incorporated air bubbles into a high-protein yogurt to reduce its viscosity so that it is drinkable." The process developed by the Kansas State University team is patent pending, but Amamcharla says that when ready, it will be fairly simple to implement for milk processing facilities. "From the manufacturers' side of this, it will improve the efficiency of processing milk, thus saving money for the plant," Amamcharla said. "The other side is consumers," he said. "We are improving the acceptability of high-protein dairy products. There shouldn't be any differences in how these products taste, but there should be an improvement in how they feel on the tongue and in the mouth when consumers eat these products." Amamcharla said the benefits of incorporating air bubbles will go beyond yogurt. The researchers are also finding positive results in other products and processes used in the dairy industry, including condensed milk, milk protein concentrates and whey protein concentrates. Kansas State University's work has been funded by the Midwest Dairy Food Research Center and the National Dairy Council. Amamcharla credits Bingyi Li, master's student in food science, and Zhe "Dylan" Liu, postdoctoral researcher in animal sciences and industry, as being especially critical in the progress the team has made so far.
Dane G. Hansen Foundation Awards $200,000 to Kansas Wheat Commission Research Foundation
The Dane G. Hansen Foundation, Logan, Kan., has awarded a $200,000 grant to the Kansas Wheat Commission Research Foundation to assist with a greenhouse expansion project at the Kansas Wheat Innovation Center (KWIC) in Manhattan, Kan. The grant will assist in the construction of a four-bay greenhouse to be used for public-private collaborative research and commercialization in wheat biotechnology. Molecular and genetic research done in the Kansas Wheat Innovation Center laboratories will be conducted in the greenhouses. A more controlled environment will both enhance and accelerate results. The 12,750 square-foot expansion will be constructed adjacent to existing greenhouses, offices and laboratories at the KWIC. The new space will include separate rooms for potting, seed processing, soil preparation and a soil room to receive and handle bulk potting. Special temperature control and grid lighting systems are also included in the project. Additional funding for the expansion will come from the U.S. Economic Development Administration and the Kansas Wheat Commission. Groundbreaking for the project is expected to begin later this month. Wheat is a significant part of the economic vitality of the Dane G. Hansen Foundation service area in Northwest Kansas, and the Foundation is pleased to support a project that enhances crop development for all farmers.
Ag Policy
Update on Family Farms
USDA often releases what it regards as non-controversial but self-congratulatory reports when administrations turn over, especially when that occurs just ahead of farm bill debates. So, USDA's new retrospective on U.S. farm structure might be accused of falling into that category. These reports often are intended to counter myths about the sector that often reflect the fact that most voters nowadays have little immediate contact with farms or farming. The topic of the current report is family farms, and it is clearly organized to counter any "corporate" image. It is one of a long series prepared by the Department's Economic Research Service on the topic and is being fairly widely read. For example, Food Safety News picked up the report and notes its main conclusion: "agriculture in America remains overwhelmingly dominated by family farms." It also emphasizes a less-appreciated aspect of the sector, and that is that largest share of farms, 72% it states, are quite independent of government programs. This report is fairly brief and highly statistical, and focused heavily on several farm categories that it describes in detail. Family farms, it says, "include 99% of U.S. farms that account for 89% of farm production." The report notes that all family farms are not small, and that larger farms are increasingly important and produce "the largest share of farm production," while continuing as mostly "family operations." At the same time, it says that food and fiber production has shifted to farms with gross cash farm income of $1 million or more since 1991, but are still is organized mainly as family operations. Even those organized as nonfamily corporations generally have no more than 10 stockholders, ERS says. It also observes that farm households in general "are neither low-income nor low-wealth." For each type of farm household, both median household income and wealth are above the median for all U.S. households. The report also focuses briefly on the different programs, and concludes that the Conservation Reserve Program is highly unusual since it targets environmentally sensitive cropland and its payments largely go to "retirement, off-farm occupation, and low-sales farms." And, Federal crop insurance indemnities are roughly proportional to cropland and midsize and large farms received 69% of those payments in 2015. At the upper end of the size scale, the report also notes that some farms are very large and that these are increasingly important. For example, since 1991, those with sales of $5 million or more have increased their share of production to from 13% to 23% in 2015. It also notes that mid-range farms with between $1 million to nearly $4.99 million in sales increased to 29%, up from 19%. Small farms play an outsize role in several areas, the report emphasizes. They managed about 48% of the land under production as of 2015, as well as a large share of the production of poultry and eggs, mostly under contact. And, they account for some 52% of the hay production. Well, it is likely that the coming farm bill debate will be much different than the last one when the farm economy was performing a good bit better than many other sectors and program advocates had to struggle to justify why expensive safety net programs were needed. This time, commodity prices and farm income have been falling and producers are urging the development of more effective safety net programs. However, opposition to farm spending is based on many things, including the sector's image as dominated by "factory farms" and corporations. Those myths likely to be trotted out again as the debate proceeds. Not so, says USDA, and that's true. Still, some of the other common charges will be revived, including the "wealthy farmer" image. This report sort of tiptoes around that issue, concluding that there are many "types" of farm households that "are neither low-income nor low-wealth—and that for "each type of farm household, both median household income and wealth are above the median for all U.S. households." So, the farm bill debate almost certainly likely will have social component again this time around, although the sector's economic situation likely will be less of a challenge to interpret.
Statement by Agriculture Secretary Tom Vilsack on House Agriculture Committee Report on SNAP
WASHINGTON, December 8, 2016—Agriculture Secretary Tom Vilsack today released the following statement on the House Committee on Agriculture's new report on the Supplemental Nutrition Assistance Program (SNAP), which contains the Committee's findings from a series of hearings on the program: "After holding 16 hearings on SNAP over the past two years, the House Agriculture Committee reached a simple conclusion: SNAP provides a critical nutrition safety net for millions of low-income Americans, and we need to do all we can to protect and strengthen the program so it can continue effectively serving American families in need. "Four out of five SNAP participants are children, seniors, people with disabilities, or working adults. SNAP reduces food insecurity, increases access to healthy food, and generates economic activity and creates jobs all along the supply chain—from the store where food is purchased, all the way back to the farmer who produces it. The program has also been shown to have a positive impact on children's health, academic performance, and long-run economic self-sufficiency. SNAP rewards work with benefits that decrease gradually as earnings increase, and SNAP Employment & Training helps participants build the skills they need to get good-paying jobs and move off the program the right way. "SNAP is designed to respond swiftly to changing economic conditions—on a national scale, as we saw during the Great Recession when SNAP lifted millions of people out of poverty, or locally, when a plant closes, disaster strikes, or another event causes sudden unemployment or hardship in a particular community. As the report highlights, states already have significant flexibility to tailor the program to their unique needs, while maintaining the responsiveness, effectiveness, and oversight of the Federal program. "Proposals to convert SNAP into a block grant are misguided and would mean the program could no longer respond to economic conditions and serve all eligible Americans without drastically reducing benefits. As Congress begins working on the 2018 Farm Bill, they must protect SNAP and resist pressure to weaken the program by turning it into an ineffective block grant."
US - Chinese Talks Falter in WTO Farm Subsidy Spat
U.S. and Chinese trade officials were unable to resolve their disagreements over the Obama administration's allegations that Beijing provided more than $100 billion in "illegal" government subsidies for producing rice, wheat and corn. The U.S. now plans to ask the World Trade Organization (WTO) to initiate an investigation into the matter at a December 16 meeting of the WTO's dispute settlement body (DSB), per a document filed by the DSB. The U.S. will argue that China violated the terms of its 2001 accession agreement to the WTO and provided trade-distorting domestic support in excess of its WTO commitments, the Office of the U.S. Trade Representative (USTR) said. China's schedule of commitments limits its domestic agriculture support, both aggregate and product-specific, to 8.5% of the annual value of production of each commodity. If the U.S. succeeds, the dispute could force China to reduce its agricultural subsidies or face retaliatory trade tariffs worth tens of billions of dollars. President-elect Donald Trump, some observers noted, could use the ongoing U.S. case against China's agricultural subsidies as an early opportunity to boost pressure on Beijing at the WTO because the WTO would not likely begin its inquiry into the matter until 2017 after Trump takes office. The WTO is out of session from December 23 to January 2. The WTO process includes a set of rules and procedures and provides a forum for resolving trade disputes between WTO member countries. China is widely expected to block the initial request for the establishment of a panel, but it may not reject a second one, which could come ahead of the DSB's first meeting in January.