KEARNEY – The Holdrege Dusters were able to outpace Gothenburg most of the evening at Kearney Catholic, as Holdrege won 49-30 and will take on the Stars Tuesday night at Kearney Catholic. Click here to listen to the broadcast.
Although Holdrege held the hot hand during most of the contest, it was Gothenburg who started the game out quickly as Wes Geicken hit two three pointers in the opening minutes to give the Swedes the early advantage. Holdrege did add a lay-in to stay within reach, but Gothenburg set an early pace that the Dusters took some time to adjust to. After the opening minutes, Holdrege settled in and found room to score from beyond the arc as Dashton Edgren connected from three while also tallying in four points from floaters off of drives to the basket. Holdrege was able to capitalize on back door passes, namely to Adam Shearer, as the Dusters took a 17-8 lead entering the second quarter.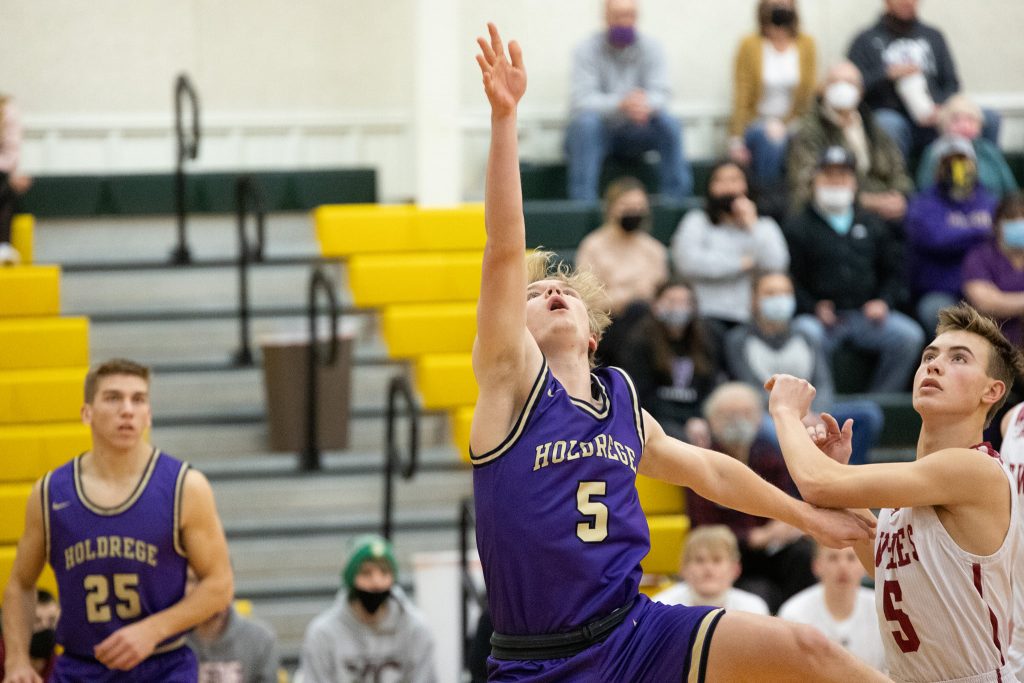 Holdrege continued to shut down the Gothenburg offense while the Swedes searched for a shot to fall, only adding another 6 points in the second quarter all coming from Wes Geiken, this time with lay-ins at the hoop. Holdrege opened up their offense more from downtown, as three different Dusters hit triples (Edgren, Jackson Hinrichs, and Hudson Reed). Holdrege flexed a 30-14 lead entering halftime.
Gothenburg was unable to get the ball rolling in the third quarter but did slow down the attack from Holdrege as the Dusters only added 8 points but were continuing to barrage Gothenburg with a stout defensive effort. The Dusters continued to bleed clock through the second half as the game was never within reach for Gothenburg, and Holdrege moves on winning 49-30.
Holdrege improves to 4-16 on the season and faces the #1 seeded and 20-2 overall Kearney Catholic Stars at the Cope Coliseum Tuesday night. Tip-off is set for 6 PM. The Dusters had contributions from Edgren with 17 points, Hinrichs with 13 points, 8 points added by Shearer, Reed tallied 7 points, and Kaden Broeker and Jaxson Karn both added 2 points.
Gothenburg will end their season at 5-18 on the year. The Swedes had contributions from Wes Geiken with 16 points, 6 points added by Carson Rhodes, 3 points tallied by Jakeb Scherer, 2 points each coming from Trey Stevens and Bronson Long, and Jacob Burge adding a free throw.
The Holdrege/Kearney Catholic contest can be heard on KUVR in Holdrege on 96.9 FM, 1380 AM, and at KUVR.com. Pregame coverage will start at 5:45 PM.