HASTINGS – In a back and forth contest through three quarters, it was a late push by the Lady Dusters that earn them a spot in the B7 Sub-district final as they will face off against Hastings for a chance at a District Final. Click here to listen to the broadcast.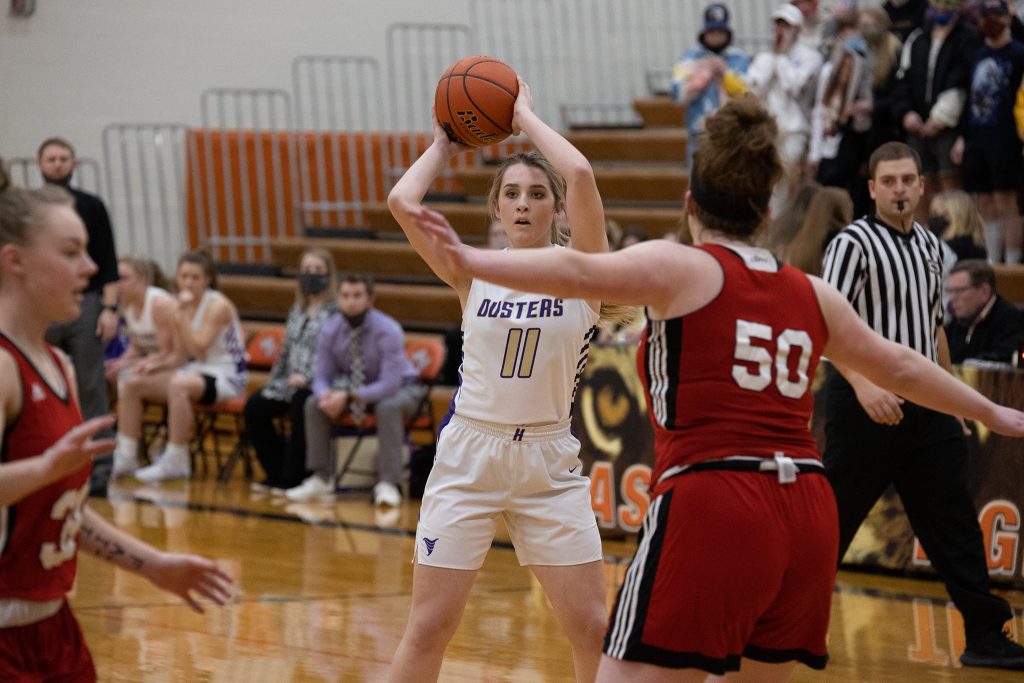 As the game got under way, both teams began feeling each other out as from the opening tip this contest would not be like the 34-26 contest seen earlier this season, a game McCook won over Holdrege in the Duster Dome. McCook started the scoring first, adding in a three pointer from Tori Honn to take the first lead of the contest. Holdrege wanted to find inside looks but none appeared, as they were held scoreless while McCook started a short run with free throws knocked down by Shawna Wilkinson, extended their lead further. Holdrege was finally able to get some points to go from four different scorers, kicking it off with a three pointer from freshman Avery Hurlbert and Brooklyn Berney having an open lane inside for two points. Megan Belgum came off the bench knocking down 4 points and McKenna Ortgiesen hit free throws to score 11 in total, but McCook did the Dusters one possession better as Wilkinson had 6 points and the Bison led 13-11.
Starting the second quarter, McCook again held their lead as Holdrege was unable to hold a lead for more than a possession, having to tie up the score or face the deficit most of the second quarter. The Bison hit another three pointer from Honn, and Joy Rippen added her own three pointer as well extending the McCook lead. As previously mentioned, Holdrege did continue to find their rhythm answering shots with their own attacks as Hurlbert added another three points off a three point play and Belgum added another four points. McCook and Holdrege each scored 11 in the second quarter, as a last second steal and layaway from McCook gave the Bison a 24-22 advantage entering halftime.
The third quarter played much of the same back-and-forth game the second quarter had, as each team traded buckets but new scorers approached on both sides. Mallory Pfeifer showed confident shots from mid-range adding 4 points, While McCook saw Ainsley Taylor and Peyton Doucet both introduce themselves to the scorebook. 5 different scorers had points in the third for McCook, while Holdrege matched with their own 5 but escaped with more points taking their first lead into a quarter change after an Avery Hurlbert three pointer went through giving the Dusters a 39-37 lead.
The fourth quarter was the anomaly of contest, but it went in the Dusters favor as Holdrege erupted for a 17-5 run to close out the contest. Alexis Bliven, who had only four points entering the quarter, added another four and had plenty of help from Hurlbert connecting on all four of her free throws in the fourth quarter. Orgtiesen tallied another four points, while grabbing plenty of tough rebounds to keep the ball in possession of Holdrege. The stingy Duster defense flexed once again as they stifled any movement and outside shots for McCook. The Bison were limited to only 5 points in the final 8 minutes as Holdrege won 56-42.
The Dusters improve to 11-9 on the year and face off against 11-10 Hastings Thursday night at Hastings Senior High School. Both teams are looking to earn their way into District Final matchups, as Holdrege entering Wednesday night set at #16 in Power points and Hastings on their heels at #17. Holdrege had contributions from Hurlbert with 15 points leading all scorers, 11 points tallied by Belgum, 10 points knocked in by Ortgiesen, 8 points scored by Bliven, 6 points added by Pfeifer, and 2 points tallied by Berney.
McCook falls to 7-16 on the season and had contributions from Wilkinson with 10 points, 9 points added by Honn, 7 points coming from Sierra Kotschwar, 4 points added by Doucet and Roberts, three points tallied by Rippen, and 2 points added by Ainsley Taylor.
The Holdrege/Hastings matchup can be heard on KUVR with pregame starting at 5:45 PM Thursday night on 96.9 FM and at KUVR.com.