In just weeks, thousands of visitors and exhibitors will descend on the Husker Harvest Days grounds .  New this year, $7.5 million in renovations to the 41 year-old facility.
Media and local dignitaries received a sneak peak of the upgrades ahead of the 2018 show.
Among the highlights:
7,000 + ft of fencing around the facility
18,710 ft of storm drainage pipe
13,835,200 gallon storm water storage
5 + miles of concrete roads
The 2018 Husker Harvest Days will be held Sept. 11-13 near Grand Island, Nebraska.
Photos: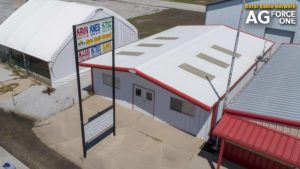 Full Drone Video: