The first  "Pulling  for a Purpose" event host by  the Law Enforcement Torch Run  to benefit Nebraska Special Olympics raised between four to five hundred dollars Saturday at Western Nebraska Regional Airport.
Two,  10 person teams matched up to see who could pull a 48,800 pound airport crash rescue truck 15 feet the quickest.
The Corn Chuckers and Beastly were in "a statistical tie" after the first two heats, which forced a third playoff heat won by the Corn Chuckers with a time of 5.3 seconds.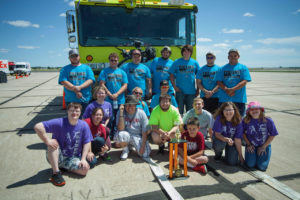 Brock Smith, who was one of the ten members on the winning team said the whole idea is to "just lean into it and keep your feet moving". Smith said he was the smallest one on the team  and gave credit to their one female and  some of the larger members of his squad.
Smith said the big challenge was to initially get the truck moving, but once you do, the momentum of the large vehicle helps a lot. Smith said the event was "a lot of fun and for a good cause " and hopes next year more people get involved.