Scotts Bluff County 4-H held its annual Achievement Celebration on Sunday, Nov. 5, at the University of Nebraska's Panhandle Research and Extension Center. The theme was "Far Out, Funky 4-H Achievement Fandango."
The 4-H Council officers are elected by ballot at the 4-H Achievement event by 4-H membership at large. The 4-H Council members elected for 2018 are: President – Wendi Callenius, Vice-President – Patty Pittman, Secretary – Tanya Lake, Treasurer – Julie Lane, and Youth Representatives – Alexis Souza and Autumn Pittman.
Youth award highlights include:
The "I Dare You Leadership Award" was first offered to young people in the United States in 1941 by William H. Danforth, founder of the Ralston Purina Company in St. Louis. Megan Rudy was presented the award by 4-H Council Vice President Patty Pittman, the award includes a $200 scholarship.
The 4-H Career Portfolio is the annual record-keeping system used by Nebraska Youth. Winners receive certificates and cash awards of $50 for 1st place and $25 for 2nd place. This year's winners were:
1st Junior Division – Jessica Wilkinson
2nd Junior Division – Ethan Bomberger
1st Senior Division – Brilea Sinner
2nd Senior Division – Autumn Pittman
Additional Career Portfolio Awards were presented as follows:
Junior Division Animal Science – Cacee Colson, Kristy Colson, Justin Keller, Laurence Keller, Sophia Pitts, Jarrett Shepperson, Justin Vance and Kathryn Vance.
Junior Division Consumer & Family Science – Sheridan Lathrop and Justine Wilkinson
Junior Division Healthy Lifestyles – Gabriella Anderson
Senior Division Animal Science – Katie Colson, Clayton Haug, Elizabeth Shepperson and Alexis Souza
Senior Division Consumer & Family Science – Mirka Anguiano
The Nebraska 4-H Diamond Clover Program has six levels and is designed to encourage 4-H youth to engage in a variety of projects and activities. The program's overall goal is to provide 4-H members a rich and diverse learning experience.
Amethyst Clover pins – Cacee Colson, Laurence Keller, Sheridan Lathrop and Jarrett Shepperson
Aquamarine Clover pins – Katie Colson, Kristy Colson, Justin Keller, Elizabeth Shepperson and Justine Wilkinson
Ruby Clover pins – Sophia Pitts, Autumn Pittman and Jessica Wilkinson
Alexis Souza was presented an award to recognize that she is working on the Diamond Clover Award.
A Herdsmanship Awards were given by June Castillo, the 2017 4-H Herdsmanship Superintendent presented these awards.
Beef Herdsmanship – Panhandle Livestock 4-H Club
Sheep Herdsmanship – Fairview 50 4-H Club
Meat Goat Herdsmanship, Swine Herdsmanship and All Around Herdsmanship – Just Kidding Around 4-H Club
The Tom Holman Spirit of 4-H Award is to honor the memory of Tom Holman, long-time Extension Educator in Scotts Bluff County. This year the award was presented to Kyle Kizzire by Julie Lane, 4-H Council Secretary.
An award for Outstanding Rabbit and Poultry Club Member was presented to Devin Suhr by Jana Schwartz from the Scotts Bluff County Extension Office.
Awards were also presented to all first year 4-H members, graduating senior 4-H members and Clover Kids.
Special pins are awarded in five year intervals to volunteers who continue to be committed to the 4-H Program.
Five years (silver pin) – Patricia Beals, Kaden Hubbard, Melissa Mosher, Catherine Reynolds, Cori Sherrod and Jason Wilkinson
Ten years (gold pin) – Julia Jacobs
Fifteen years (pearl pin) – Paul Callenius and Donna Jenne
Thirty years (ruby pin) – Val Baker
The Leaders of the Year Award recognizes an enrolled 4-H volunteer leader. This year the award was presented to June Castillo for her significant contributions to Scotts Bluff County 4-H by serving as superintendent of both the Awards Committee and the Herdsmanship Committee. Her service was greatly appreciated by 4-H members, volunteers and Extension Office staff.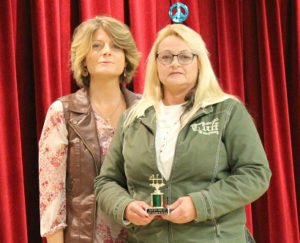 The Friend of 4-H Award recognizes someone who has been a true friend in providing support to the 4-H program. This year the award was presented to the Scotts Bluff County Farm Bureau. The Farm Bureau has provided generous support of the Scotts Bluff County 4-H program, including funds to pay for the online Quality Assurance Program for 4-H members and registration fees for the 4-H Robotics program. 4-H continues to be able to provide programming thanks to partners like Farm Bureau.
Scotts Bluff County 4-H would like to thank the Achievement Committee – Julie Lane, Wendi Callenius, Paul Callenius, Tanya Lake, Patty Pittman, Autumn Pittman, Alexis Souza, and Jana Schwartz for all of their work in planning this event, and also special thanks to Paul Callenius for serving as the emcee for the program.